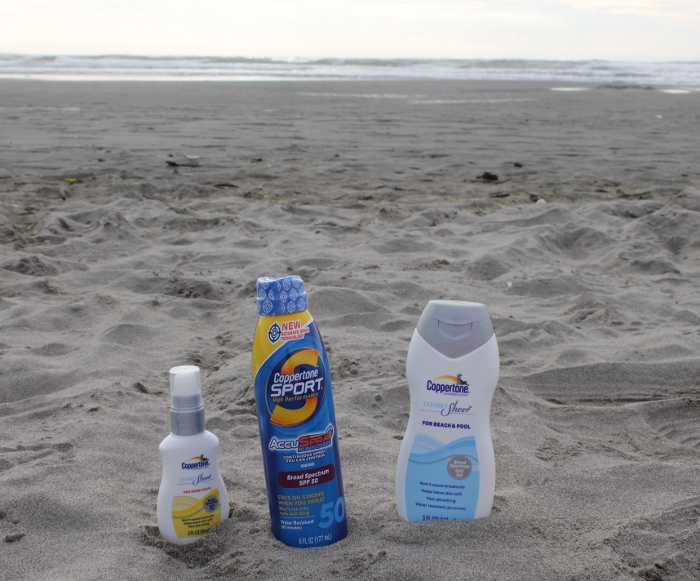 Samples provided. This article is not intended as medical advice; always consult with a doctor regarding skin care.
Whether you're headed to the beach, a picnic, or have other big Labor Day plans, you've probably remembered to tuck a bottle of sunscreen in your beach bag. But what is your sun care routine like after the heyday of summer, as we transition into back-to-school and beyond? Most people think of sunscreen as something they apply on a hot day, but sun protection is important year-round.
In light of this, Coppertone has released their 2nd annual Making The Sunscreen Grade program, which includes hints, tips, and a downloadable sun care guide. There is a special section dedicated to "Back to School", which outlines some common things to be aware of regarding sun care at school. This has been an issue in the news recently, as some schools have restrictions on whether students may bring sunscreen or not; the American Academy of Dermatology recently released a statement encouraging schools and summer camps to allow sunscreen without requiring a doctor's note. There's a lot to think about on this topic, so it's good to be proactive and aware.
Personally, my skin burns very easily, and in the last two years I've been very careful to slather on more sunscreen than I think I'll need. Guess what? I've stood under some blistering sun and traveled to hot places without sustaining any burns. Yeah! In fact, I'm often the only person in a group to have sunscreen in my purse, and I notice my pals will all say they don't need any of my sunscreen…then a few hours, they'll notice their skin starting to turn pink and say, "Hey – do you still have that sunscreen by any chance?". And I am always eager to share! And in fact, I have quite literally shared my bottles of Coppertone that I've written about here on a few occasions.
So, what with all that sunscreen getting used, I was glad to replenish my supply as it began to dwindle after a summer of traveling! Among the samples I received were:
Did you go through a lot of sunscreen over the summer? Are you re-stocking for Fall, too?