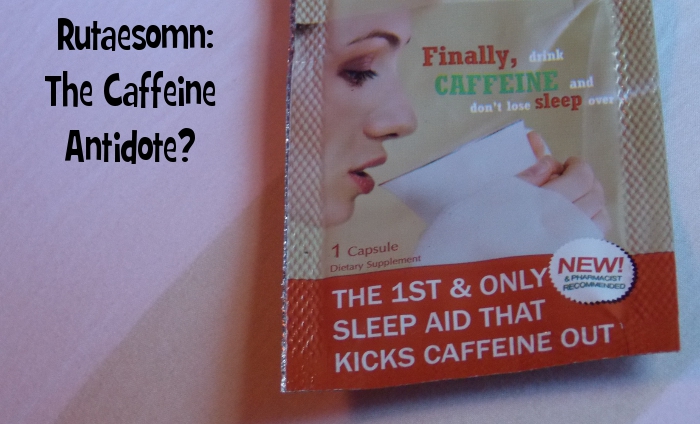 Samples of Rutaesomn were received. This article is not intended to treat, diagnose, cure or prevent any medical condition; always consult with your doctor before adding any supplements to your routine.
When things get ridiculously busy, my coffee consumption kicks up a notch. I already consume way more coffee than most people, and when I'm really under the gun, it's not unusual to finding me preparing a fresh pot of coffee in the evening to keep me going during extra, extra long days. Working this much certainly isn't something I recommend, but sometimes things happen and you just have to get through it. So when I heard about a sleeping supplement called Rutaesomn, which is meant to work almost like a caffeine antidote, my curiosity was immediately piqued. The idea behind Rutaesomn is that it's supposed to help your body metabolize caffeine more quickly than usual, with the hope of getting it out of your system so that you can sleep easier – you take it 2-4 hours before going to bed. It's also meant to be compatible with other sleep supplements, such as melatonin. This sounded like something that could be quite helpful to me!
In order to give this supplement the best possible test, I saved my capsules for nights when my workload was really heavy and I was drinking a lot of coffee in the evenings. I also took it by itself – no other sleep aids were consumed with it. These were my initial impressions:
Night 1 – I took a Rutaesomn capsule in the evening, washing it down with a cup of coffee.

I couldn't get to sleep and was up all night in fits of wakefulness.
Night 2 – Took a capsule with a cup of coffee at 8:30 PM; couldn't tell difference in my sleep either way. I didn't have a worse time than usual getting to sleep, but it wasn't necessarily any easier to fall asleep either.
Night 3 – I took a capsule with a cup of water at 9:30 PM after a long day of coffee-drinking, worked out, and passed out instantaneously when I went to bed!
Night 4 – Took Rutaesomn with a cup of water at 9:08 PM right after finishing a cup of coffee, didn't sleep very well.
ETA: I should have been clear about what my bedtime was on these nights – I wasn't getting into bed until at least 12 AM, which is why I took it around 8 or 9 at night.
As you can see, I put this to a really difficult test since I only drank it on high-caffeine days, often taking the supplement with my last cup of coffee of the day late at night! It didn't do too much for me under these circumstances. However, I would definitely try this again for more typical days of coffee consumption, and I'd love to try it with melatonin.
If you're curious to read more about Rutaesomn and the concept behind it, check out Rutaesomn.com and visit them on Facebook.